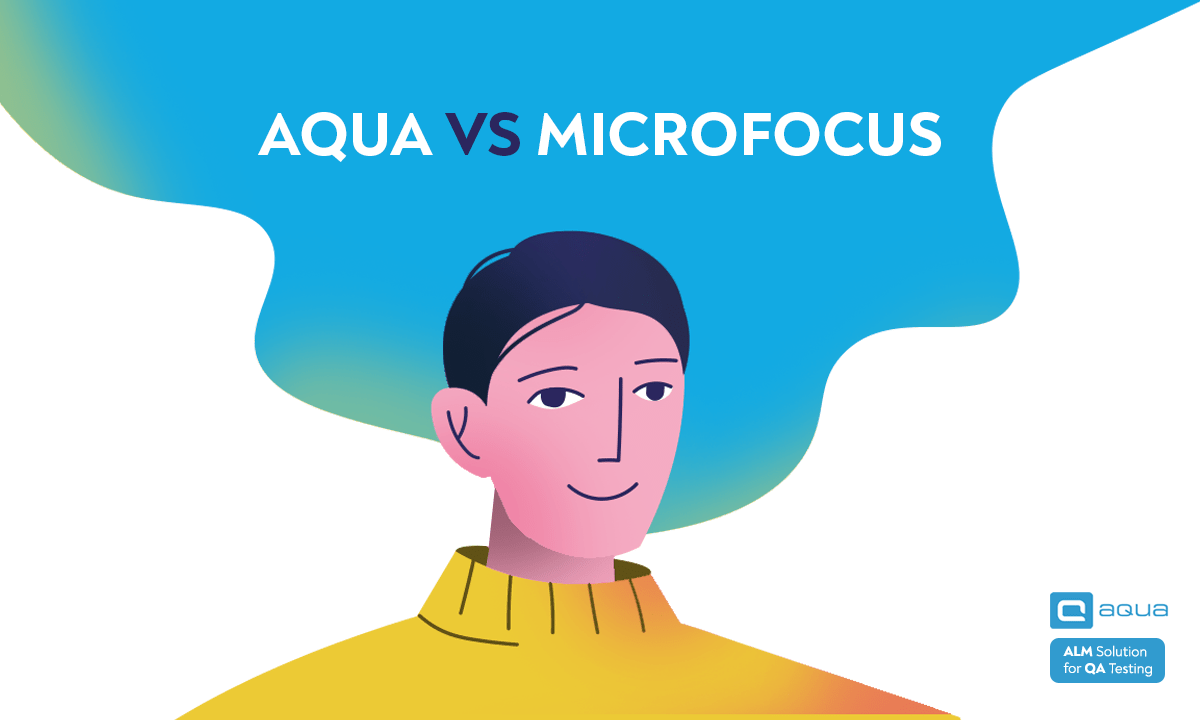 Deployment models
aqua ALM and ALM/Quality Center both provide Cloud and On-Premise offerings. It means that you can pick between the convenience of a Cloud solution and the extra flexibility of an On-Premise one. The latter is a necessity for sensitive industries (as well as subcontractors) and thus a significant factor in picking a testing tool for government sector.
User Management
Flexible user management helps a lot, especially if you're a big company. Some projects might be more sensitive than others or you may not want to give a new intern editing rights just yet. Both aqua and Quality Center are strong in this department with custom roles and a high number of permissions. QC, however, lacks the functionality to assign a set of permissions on a per user basis.
Test Management
Both tools offer solid test management functionality. Quality Center, however, is lacking when it comes to some efficiency-minded features, e.g. nested test cases and labels. It also doesn't store a history of changes to the test case — a serious violation of traceability requirements found in some industries.
Test management with aqua
Integrations & Automated Testing
Quality Center and aqua both advocate for using third-party automation tools rather than reinventing the wheel. aqua has a wider list of supported automation tools, but both solutions support REST API to connect any in-house or third-party solution.
aqua also brings a unique integration among test management solutions — a Chrome extension to run tests and immediately document them. aqua Test Recorder enables you to record interactions, edit captured data, leave comments, annotate screenshots, and then send everything to your company's aqua server. This approach saves time on all the tab switching, and immediate documentation ensures the QA specialists share everything they observed.
For context, virtually all aqua competitors lack a first-party Chrome extension. They have to rely on third-party solutions that often cost extra money and lack native integrations with test management solutions.
Yes (Jira link, Jira sync)
Auto-translation in workspace
Yes (UFT suite, Teams, Word, Excel, Google Sheets)
Dashboards
Dashboards are a great asset for both testers and everyone around them. High-level overviews give key pointers to Project Manager, Project Owner and even a curious executive, Low-level overviews aid work of QA specialists, their leads, and even developers.
Here, Quality Center and aqua go toe-to-toe. QC even matches aqua's KPI Alert functionality, which is a relatively rare sight across both test management and ALM offerings.
Pie chart, bar chart, line graph
Pie, bar, stacked bar chart; table chart
Read-only view for externals
Reporting
Quality Center provides a truly advanced reporting functionality. You can get any data from your project, insert graphs based on it, and even embed any custom text or attachments. aqua, however, takes it a bit step further with more out-of-the-box elements than QC can offer.
ALM
Quality Center and aqua are both true ALMs. They offer test case management, requirements management, defect management, project management, and even custom workflows. This functionality is enough to replace many if not all tools that your team uses to keep track of tasks and complete them. Both QC and aqua provide native support of Agile and Waterfall development, and aqua brings a bit of an extra with Extreme programming.
Software dev. methodology
Agile, Waterfall, Extreme Programming
Setting up & Pricing
The Software as a Service pricing model offered by Micro Focus is very steep. The mandatory yearly cost for setup & maintenance of the ALM package is $55,500 — before VAT. Each user will additionally cost $4,632 per year. Getting 10 people on Micro Focus ALM is going to cost you $101,820/year before VAT.
aqua's ALM tier, on the other hand, comes at €109/year per person (VAT inclusive). You can also go ahead and buy a perpetual aqua licence at roughly 1/20th of the yearly mandatory Micro Focus cost. In our biased opinion, you should really know why you would need ALM/Quality Center to justify that kind of extra spending.
Now, our own experience in the ALM market suggests things may look a bit different. The Micro Focus pricing is taken from AWS Marketplace, and you may negotiate a double-digit discount with a local reseller. You may also get a perpetual licence from them but, inferring from the SaaS pricing, a perpetual licence will come with a very steep price tag.
*QC pricing does not include VAT
** 20% extra for setup & maintenance
Misc.
Speaking of knowing if you need ALM/Quality Center, you are not getting a trial of this tool from Micro Focus. A reseller is unlikely to refuse your request to try the tool late in the negotiation process, but you don't quite know what you're bargaining for until that. There is also no mention of a free Read-Only tier for very occasional users to avoid the extra licence purchase. On the other hand, the online test management tool aqua lets you try both QA and ALM functionality as well as everything in between.
Free licences for browsing
Conclusion
aqua and Quality Center are very evenly matched in many areas. Both tools offer superb test management, dashboards, and user management. aqua is ever so slightly ahead on reporting and project management functionality. aqua also has a much wider automation integration suite, although QC will more likely than not get the job done.
The main difference, however, is pricing. 10 people on the server is enough to push your ALM/Quality Center spending over $100,000/year, and aqua will come about 95% cheaper. A perpetual licence makes the Micro Focus offering even more ridiculous in terms of value: you can buy a lifetime aqua ALM licence for half the yearly cost of one ALM/Quality Center user.